In this article I will introduce Azure Key Vault, an Azure service to secure and protect secrets, certificates, and connection strings, so I can protect my PHP application.
In my previous article I explained how to connect an App Service with a MySQL database. In order to establish this connection, I need to provide the connection details as environment variables. Even though this approach works well for small applications with only a few people working on it, it also comes with a few drawbacks:
These connection strings need to be replicated to all services that require that connection;
Rolling over new passwords and certificates requires changes for all services depending on them;
Access control only provided to accounts with the password;
Potential risk of adding the environment variable values to the source code;
To solve these drawbacks and provide centralized secret management for larger organisations, a secret management system is a good solution. Hashicorp Vault, CyberArk Conjur, StrongBox, Knox, and recently 1Password Secrets Automation are really great solutions for managing secrets. Azure Key Vault is the solution I will discuss in this article. It is available with two pricing models: a Standard and a Premium tier. Unless you are a large organisation with high security requirements, the Standard tier will suffice in most use cases. In this article I will use examples that are based on the Standard tier Key Vault.
I will continue from my previous article where I have a very simple PHP application using Azure App Service to host my PHP application and Azure Databases for MySQL to store my data. But instead of using the database connection string as an environment variable, I'm going to use Azure Key Vault to pull in the connection string.
Getting started
In order to use Azure Key Vault, I must set it up in my Resource Group. In Azure Portal I need to add a resource, type in Key Vault, select Microsoft Key Vault, and hit the "Create" button.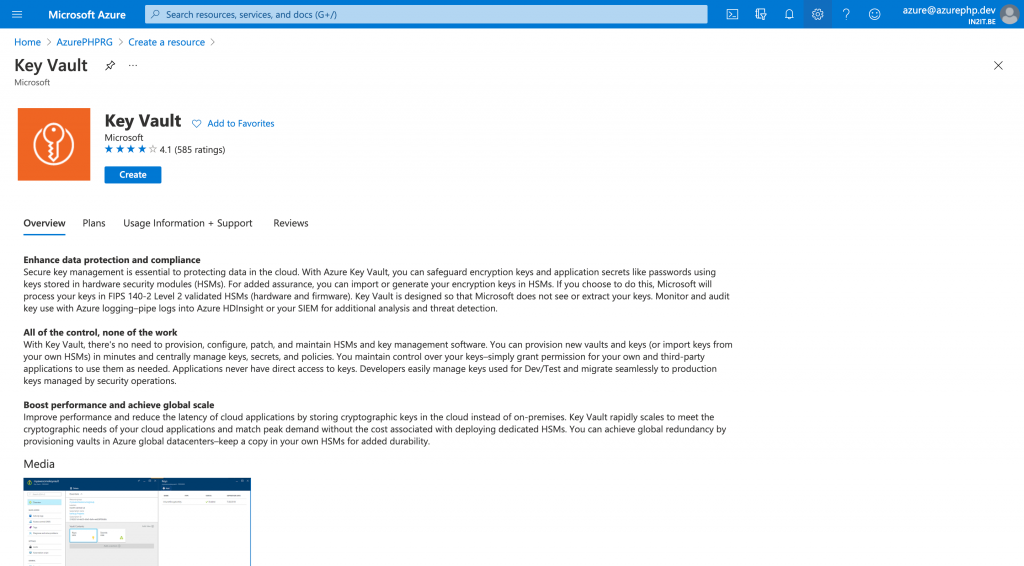 A set of screens will guide me through the configuration process. The first screen is the basics where I provide information about the name, location, and pricing tier I want to use for this key vault.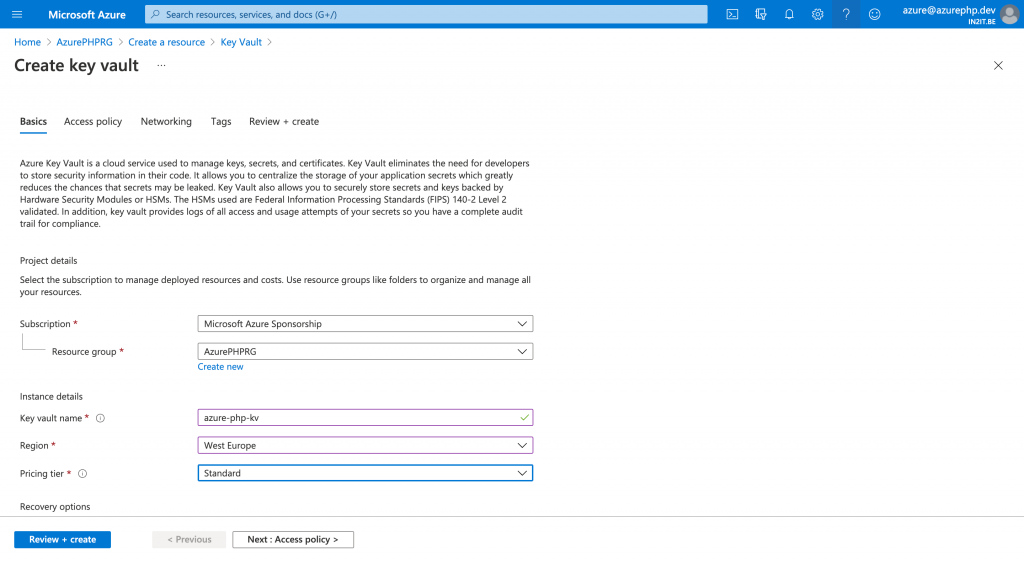 The access policy will be a little bit trickier: here I can provide access to the key vault and by default it is set to a standard vault access policy. But because only our app needs to access the keyvault, I'm going to change it to a role based access policy. With a role based access policy, I can define security principals (one for the administrator and one for the application) that will allow access to this key vault.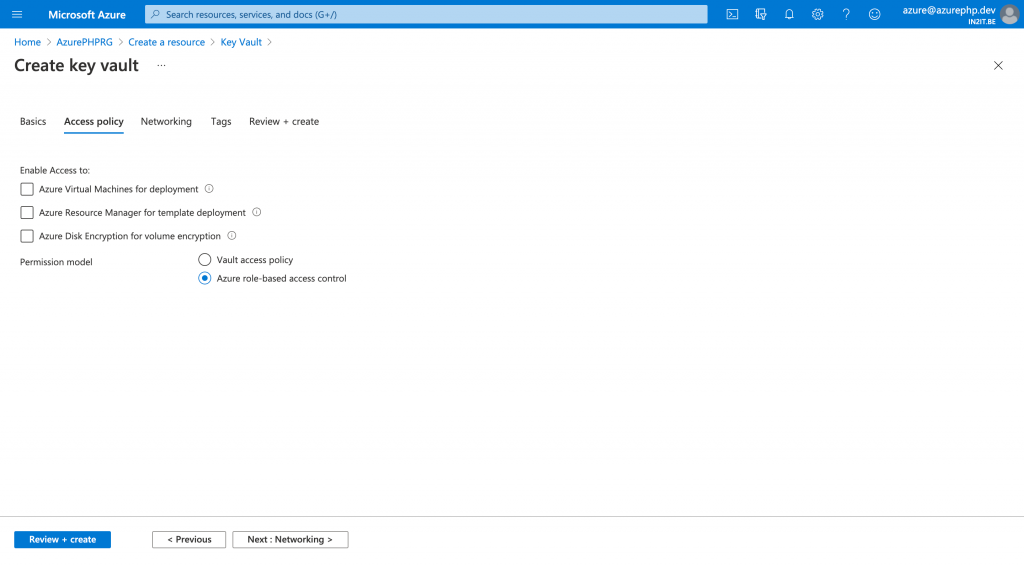 In the network section I can define which network can access my secrets. Since I don't have specified my own networks, I choose public access. In a next article I explain how to set up different networks and why this is important. For now, I go with public access.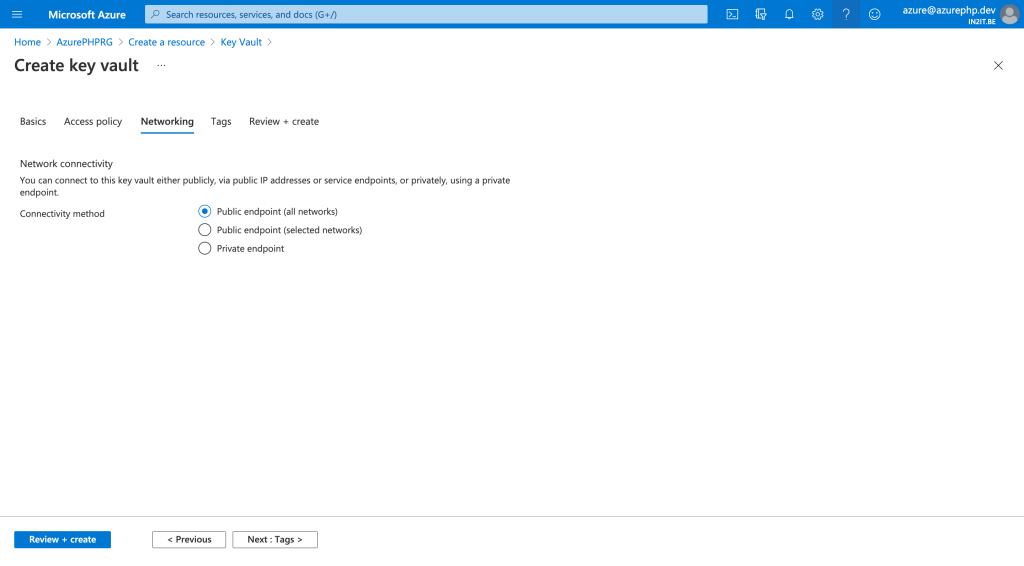 In the tag section I give my key vault some meaningful tags which helps me later on to identify the usage of this vault in my billing statements.
In the final step I have a chance to review all the settings again before I create my key vault.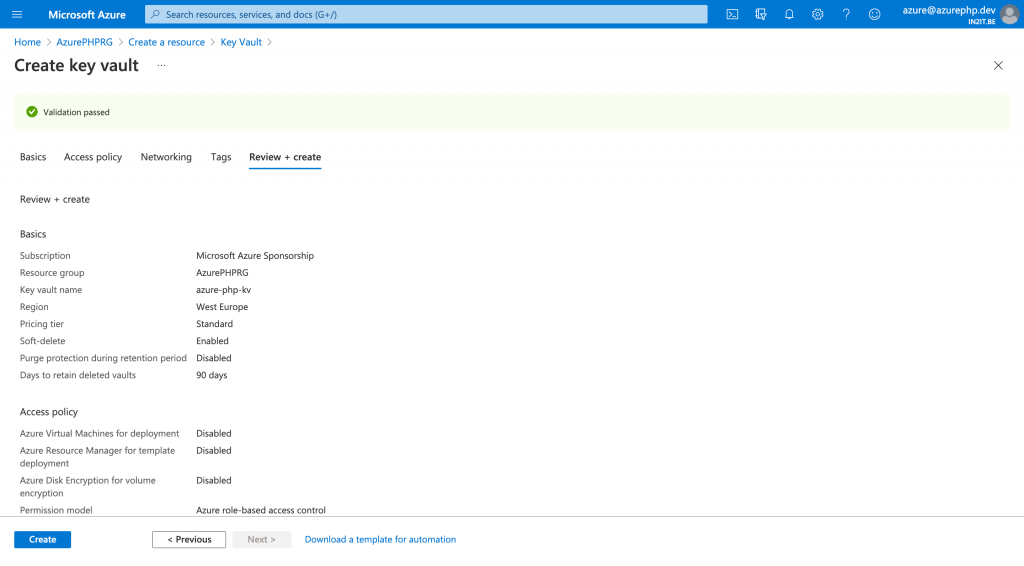 The creation of a key vault takes a few minutes, just be patient for it to complete.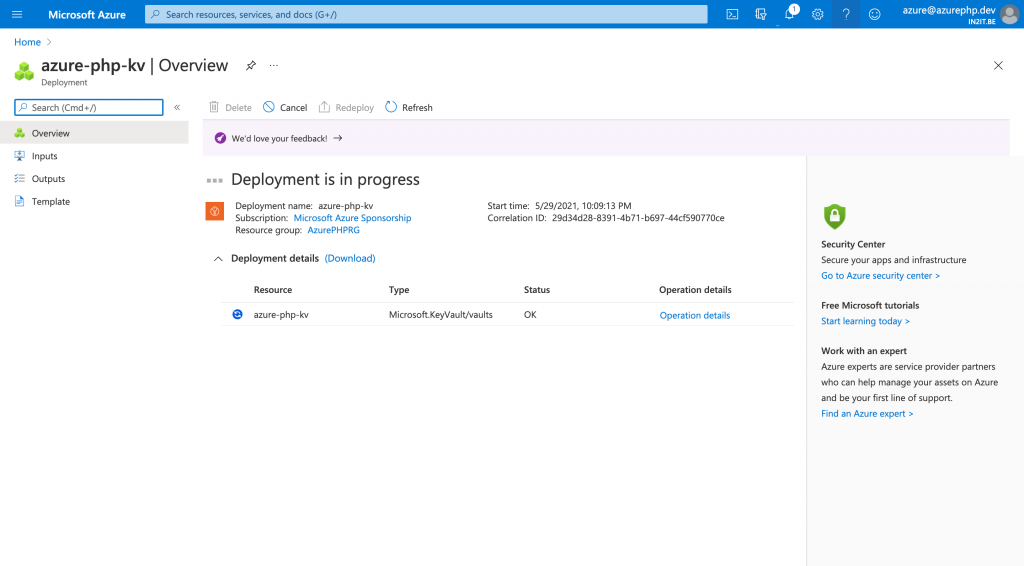 Adding the connection string as a secret
Once the deployment is finished, I can go to the key vault resource to set things up.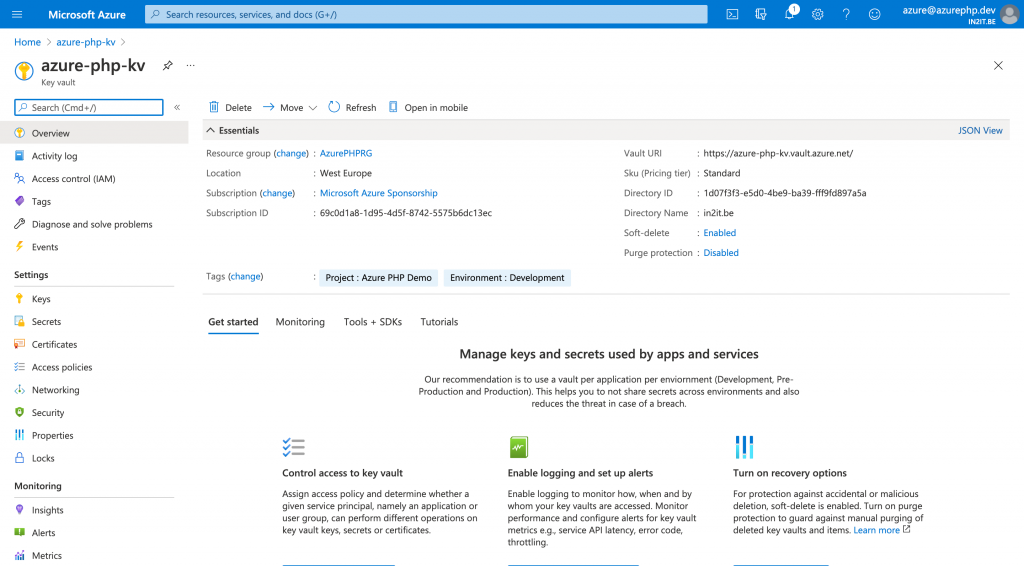 In the previous article I had created my own environment variable called "DB4MYSQL_CONN", which contained the connection string to the Azure databases for MySQL resource. I will now move this connection string out of my App Service environment and store it into Azure Key Vault.
To achieve this goal, I create a new secret in Key Vault which I will name "db4mysql-conn".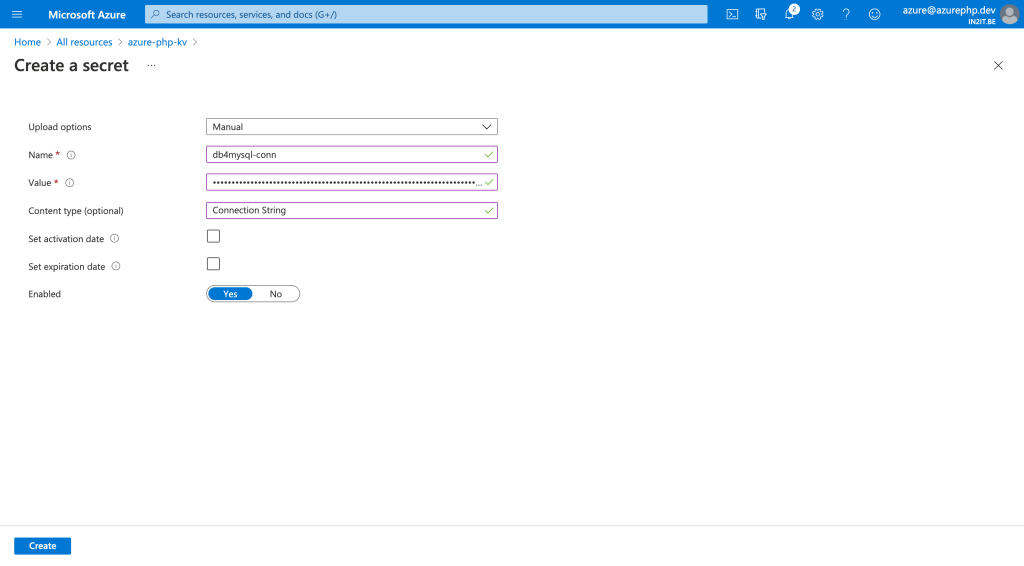 Enable Managed Identity for App Service
Now that the secret connection string is created, I need to ensure that my App Service can access this connection string. To do this, I first have to enable managed identity for my php-helloworld-from-azure application. In my app settings on the Identity blade, I turn the Managed Identity flag to on. Now it becomes a managed identity in Azure Active Directory and I can assign roles to it.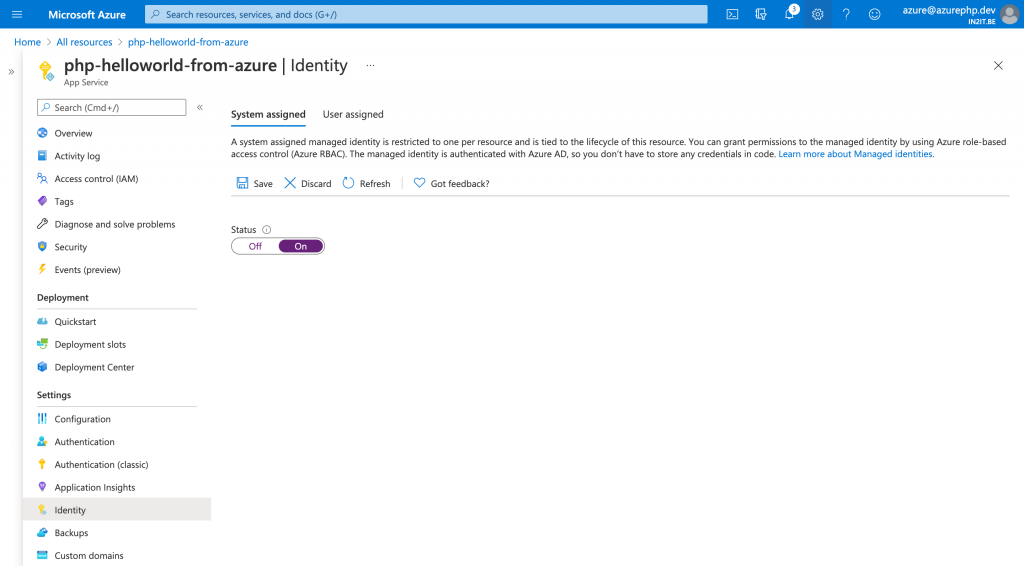 Once the managed identity is activated, I can assign it a role to access my key vault and reads my secrets. I choose "Key Vault Secrets User" as the role for my application.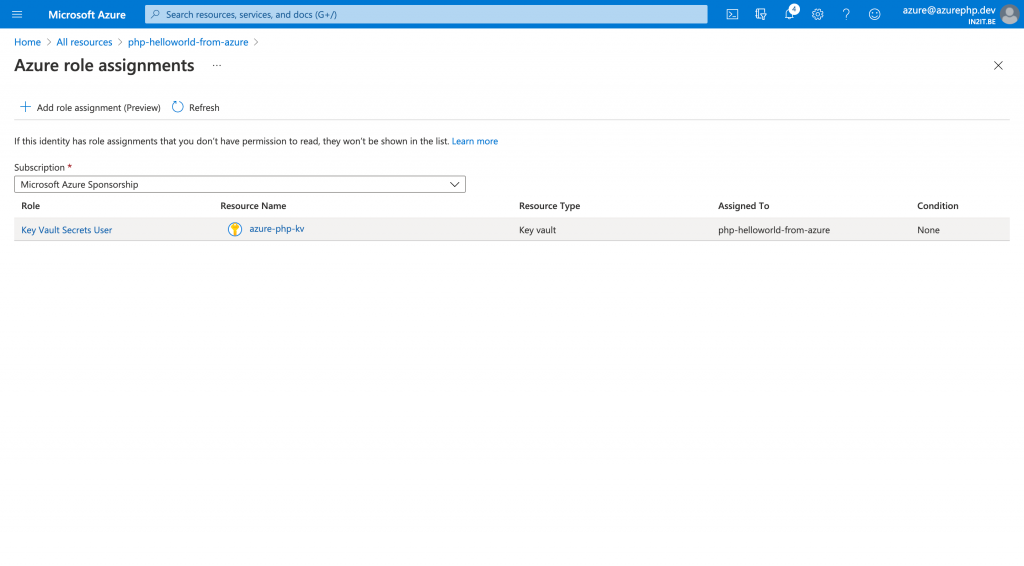 Connecting app with vault
Last step is to connect the key vault with my application. I can use the magic token from Microsoft Azure to access my secret. In the configuration settings of my application, I can now use the "@Microsoft.KeyVault()" reference as a replacement for the original connection string.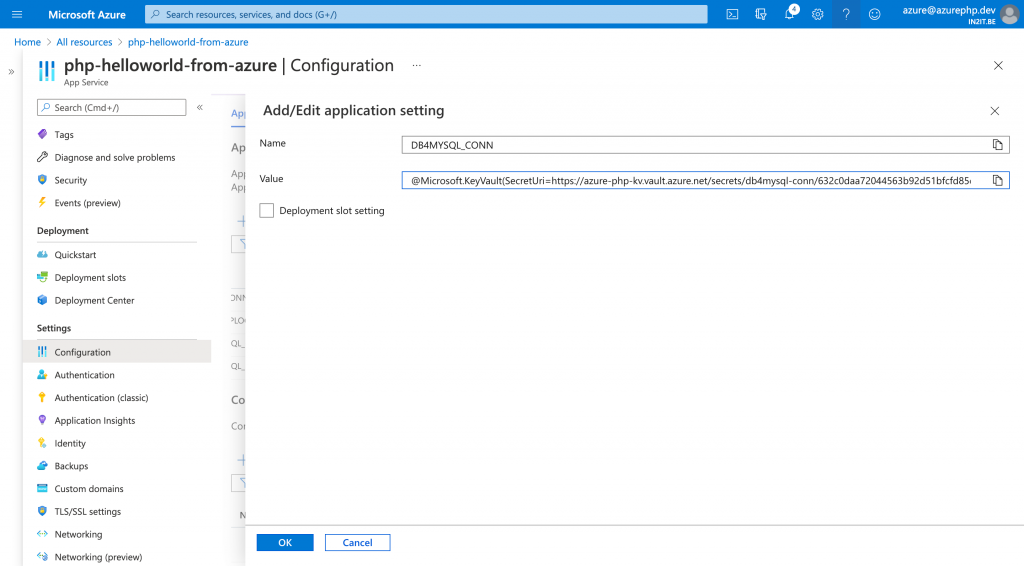 And that should be all. If I check my web application, I see it still is able to connect to my Azure Database for MySQL resource, this time using Azure Key Vault.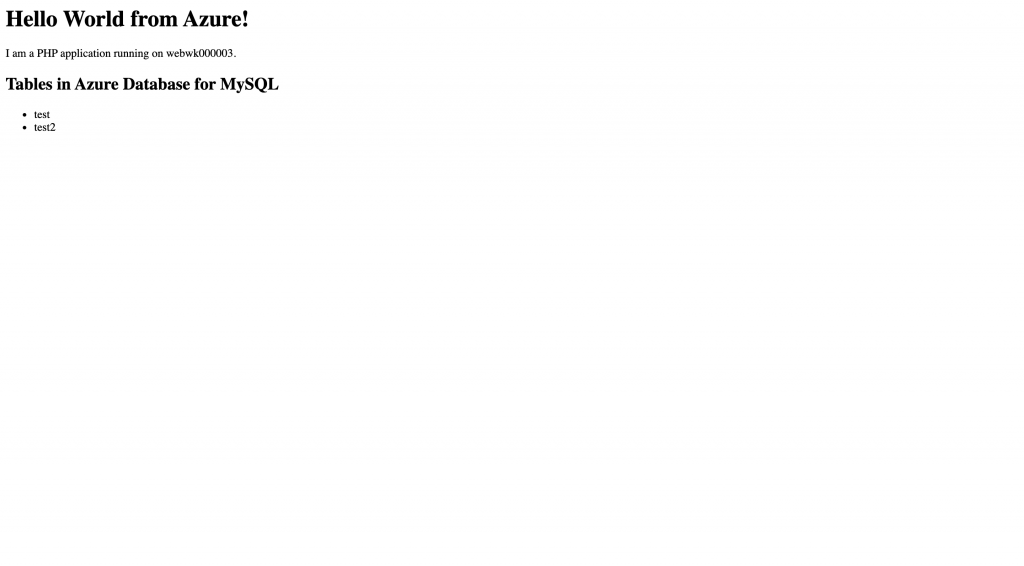 In my next article I will explain how I can mange the SSL certificates for Azure Database for MySQL with Azure Key Vault. This will allow me to use a certificate I manage myself that can also be verified by my application to improve security. See you next time.